September 6th, 2023 | Sterling
Clear Your Candidates Faster with Credentialing Automation
Since 2010, Sterling and Bullhorn have partnered to help improve the hiring process for both clients and candidates. With our longstanding partnership and continued investment in technology, we've launched several integrations that enable staffing and healthcare staffing agencies to streamline operations for making faster placements and better business decisions.
Sterling and Bullhorn recently came together for a live discussion to announce our newest credentialing automation solution for healthcare staffing agencies.
Katelyn Brower, Social Media Manager at Sterling, was joined by Ryan Garman, Director of Healthcare at Sterling, and Jason Niad, VP of Product Healthcare at Bullhorn. Together they discussed the specific need for this technology as it relates to credentialing candidates, its impact on the candidate experience and candidate redeployment rate, and how healthcare staffing agencies can use this solution to eliminate manual, time-consuming processes and checklists.
Doing Away with Archaic Processes
Jason started off by sharing his initial views on credentialing candidates when he first entered the field of healthcare staffing: "We had filing cabinets in our office, many filing cabinets, and we had to get more of them because in order to get a candidate to start their new assignment, there's often a requirement checklist of sometimes 50 items a candidate has to complete. We would have files stacked up at everyone's desk and everybody would be checking off multiple things: 'Do we have this?' 'Do we have this assignment right?' 'Has this been scanned in the computer yet?'" 
Manual processes can be problematic when handling candidates who are moving from one assignment to another, especially if the assignment is in a different state. Ryan chimed in: "Every state has its own separate set of requirements. Every checklist is going to be very different, from Pennsylvania, to New York, to Florida, to California, to Washington. Without a technology solution, healthcare staffing agencies are tracking and maintaining all of this in Excel files, and it's very archaic. And it's not going away, it's actually going to be getting even more complex, as candidates are still enjoying the travel nursing world."
It's All About the Candidate Experience
Our speakers consistently revisited a key point encapsulating the true value of a credentialing automation solution: the candidate experience. Why is this so critical for healthcare staffing firms?
"Credentialing and compliance is specifically an area that doesn't get the focus internally as much as it possibly could, because it's not necessarily a revenue-producing area of the business," said Jason. "But what drives your revenue is the candidate experience, so it's important to invest in credentialing and compliance."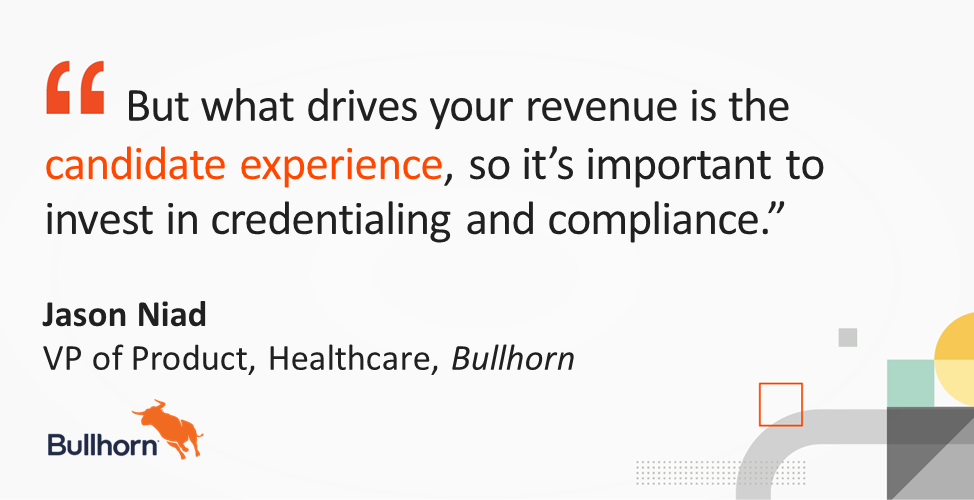 "You can be the greatest recruiter in the world," he continues. "But if your credentialing and onboarding process is causing your candidates to not want to work with you again because it was such an arduous process, you're no longer a great recruiter. If you have this slow process that causes you to churn a lot of your candidates, you'll constantly look for new hires and you're not going to have the high redeployment rate that everybody is striving for in this market."
Reuse and Reorder Credentials
Jason gave a behind-the-scenes view of how it works: "At Bullhorn, we have the ability to set up credential lists of all the requirements that somebody might need in order to get to work. That old handheld checklist that used to be checked off on your desk is now living directly within the Bullhorn system. We can drive automations directly as tasks to our candidate base for them to engage with, such as uploading their information and providing their documentation. That enables Sterling to engage with the data in our system to drive the workflows needed. We're now centralizing and automating all of these pieces of the puzzle when it comes to credentialing."
With Bullhorn's built-in automation and Sterling's credential level results functionality, one of the biggest benefits behind this solution is the ability to reuse and reorder credentials, something that hasn't been as easily available as it is now: "This means that you can very easily identify when credentials are set to expire when a candidate is out on assignment and automate that piece of it as well." said Ryan. "Typically you have to do at least a drug test, but in a perfect world, everything that the candidate did 13 weeks ago should be reused in their new assignment instead of having to reorder everything."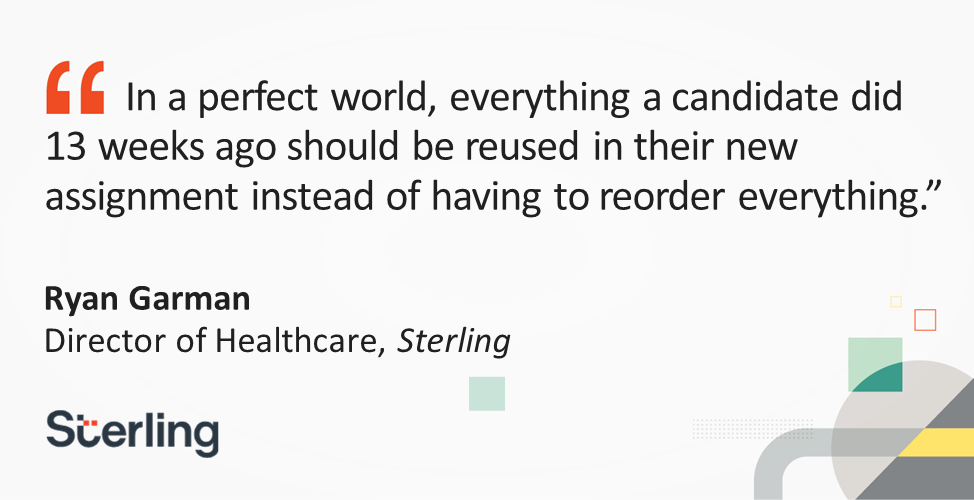 Jason continued to explore the business benefits for healthcare staffing firms: "You're able to redeploy candidates who have already worked for you at a much faster rate. They're most cost-efficient because we don't have to run all their credentials over again since we already have them on file, and you're able to provide a better experience to your customers because these people have worked for your organization many times and you know they have a great track record."
Final Thoughts
Jason summed up our discussion by stating: "We have a great product in place today and we have great partners in Sterling and others that are on this journey with us. As we think about healthcare staffing, we think about the much broader concept of how we can get enough clinical professionals into the healthcare system to provide care. We offer healthcare staffing agencies the ability to break down some of these barriers around credentialing. Candidates need a seamless credentialing process to help them quickly take on work at their new assignments. This is a great path and a great starting point to provide an amazing candidate experience."
Interested in leveraging this technology?
Click here to schedule a call to demo Sterling and Bullhorn's credentialing automation solution live in a Bullhorn account.
Want to learn more about Bullhorn?
Click here to request a demo from Bullhorn.
Sterling is not a law firm. This publication is for informational purposes only and nothing contained in it should be construed as legal advice. We expressly disclaim any warranty or responsibility for damages arising out this information. We encourage you to consult with legal counsel regarding your specific needs. We do not undertake any duty to update previously posted materials.