April 24th, 2023 | Sterling
Josh Bersin Reveals How Sterling Helps Liveops Streamline Hiring
Well into 2023, companies in every industry are still struggling to find ways to hire at scale. Many successful organizations have achieved their hiring targets by partnering with an experienced background check provider. Liveops, Inc, based in Scottsdale, Arizona and founded in 2000, is a truly modern contact center which strongly believes in improving people's lives no matter where, when, or how they work. Sterling's success story with our client Liveops is a powerful example of how we uniquely partner with each of our clients to implement and deliver a safe, trustworthy, and effective background screening program.
To illustrate the business benefits of a successful background screening program, we partnered with The Josh Bersin Company to tell the full story in Josh Bersin's latest Case Study: Liveops Boosts Their Candidate Experience with Background Check Solution. Check out the study and learn how your business can tackle talent challenges while maintaining a safe work environment.
The Challenge and the Results
In 2021, Liveops faced several hiring and retention challenges:
Maintaining a talented, robust, and on-the-ready agent population.
Retaining candidates through the application process, part of which required them to purchase a background check.
Creating a positive candidate experience, including the background check process.
Managing the high volume of candidate questions about the existing background check platform.
After a quick implementation and onboarding with Sterling, Liveops was enabled to successfully address and resolve these business problems. The results speak for themselves: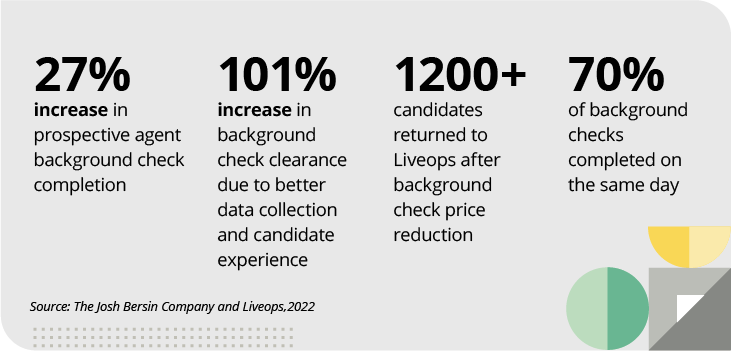 If you're struggling with your background screening program, learn actionable takeaways from Liveops' experience overcoming their hiring obstacles.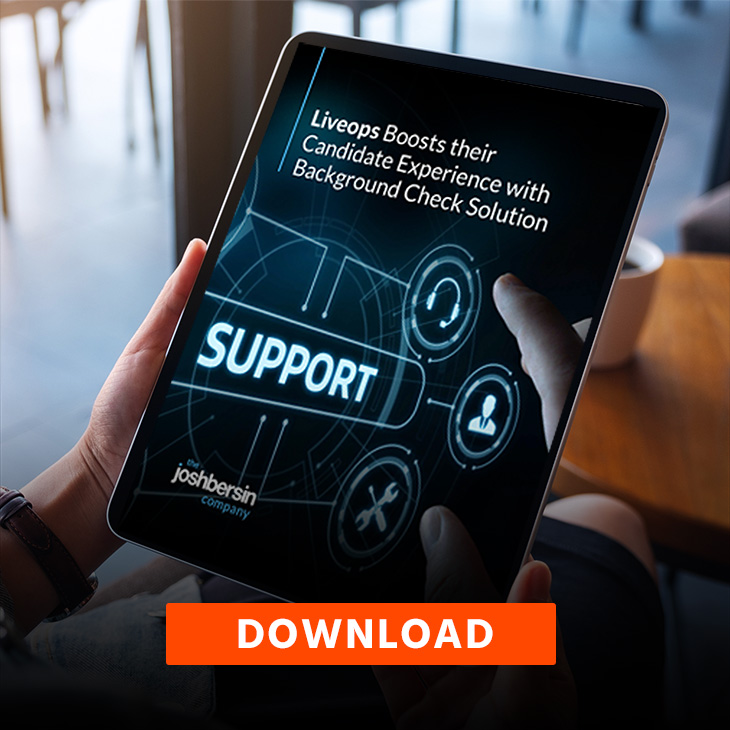 About The Josh Bersin Company
In 2020, Josh Bersin put together a team of analysts and advisors who are now working with him to support and guide HR organizations from around the world under the umbrella of The Josh Bersin Company. Recently published research covers topics such as hybrid and deskless work, HR technology market trends, employee experience, and diversity, equity, and inclusion.
Josh is frequently featured in publications such as Forbes, Harvard Business Review, HR Executive, The Wall Street Journal, The Financial Times, and CLO Magazine. He is a prolific blogger and has more than 860,000 followers on LinkedIn.
Sterling is not a law firm. This publication is for informational purposes only and nothing contained in it should be construed as legal advice. We expressly disclaim any warranty or responsibility for damages arising out this information. We encourage you to consult with legal counsel regarding your specific needs. We do not undertake any duty to update previously posted materials.