January 5th, 2021 | Alla Schay, General Manager, Sterling - Industrials, Government & Education
State-Based Approaches to Marijuana Laws Impact Employment Screening
The legal use of marijuana, whether for medical or recreational use, varies from state to state. With no uniform standard, this can create a compliance and policy challenge for employers. Following the 2020 election, 35 states now have marijuana use laws on the books, with Mississippi and South Dakota becoming the most recent to pass initiatives, and the District of Columbia permitting use of marijuana for medical purposes as long as the individual carries a certified patient card. However, all marijuana use remains illegal under federal law, since marijuana remains listed as a Schedule 1 drug under the Controlled Substances Act.
Employers still have the legal right to enforce zero tolerance policies and maintain a drug-free work environment in all 50 states. Generally speaking, employers remain able to drug test applicants and employees as long as the employer clearly informs those applicants and employees of company policy, including pre employment drug test, random drug testing, and any other post-hire testing. The general rule is that employers can deny employment to applicants or terminate employees who test positive for marijuana use. In six states (Arizona, Arkansas, Delaware, Illinois, Minnesota and Rhode Island), employers cannot take an adverse employment action against an applicant or employee with a medical marijuana card based solely on a positive marijuana drug test result. Other state equal employment laws may need to be considered as well.
Marijuana testing is essential in many industries, including transportation, construction, manufacturing, and critical infrastructure operations. For example, transportation employers are subject to US Department of Transportation (DOT) regulations that prohibit marijuana use for any safety sensitive employee who is subject to drug testing under the same guidance. Federal government contractors and recipients of federal grants are obligated to comply with the federal Drug Free Workplace Act, which requires employers to make a good faith effort to maintain a drug free workplace and prohibits employees from using controlled substances in the workplace.
A Complex Tapestry: Pre-Employment Marijuana Screening in Selected States
Here are a few examples of current state-based regulations:
New Jersey: Other than jobs that require safety precautions, employers cannot discriminate against those who use medical marijuana;
New York City: Employers can conduct pre-employment drug tests, but marijuana cannot be included in the test panel, with some exceptions
Nevada: Effective January 1, 2020, positive results for marijuana from an applicant's urine, hair, or saliva drug test may not be considered as a basis for denial of employment
Illinois: In January 2020, Illinois legalized recreational marijuana. Employers cannot take adverse action against individuals for using marijuana outside of work. Also, Illinois employers cannot fire or refuse to hire an individual for marijuana use outside of work. Employers can still perform drug tests on applicants or employees, but the results of marijuana tests are not grounds for termination.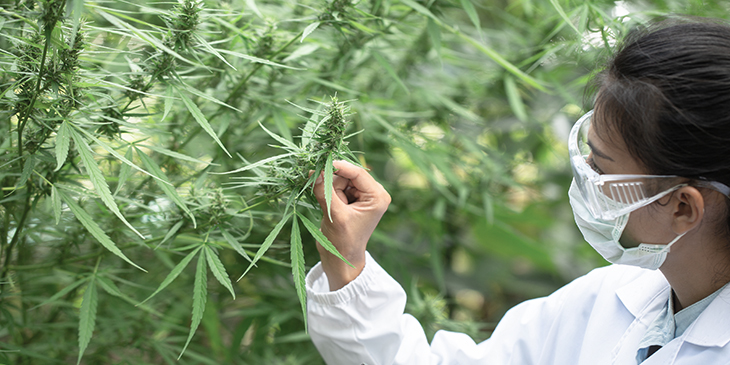 States Where Medical Marijuana Use Is Legal
Several states have passed legislation requiring employers to accommodate medical marijuana use.  Although judicial precedent in other states suggests that employers need not accommodate medical marijuana use, the change in attitude towards marijuana and the growing trend towards legalization may lead to those authorities being overruled, whether by statute or by further judicial decision. For employers in any state where medical or recreational marijuana use is legal, it is important for employers to consider the following:
Continue enforcing workplace policies preventing the use of alcohol, marijuana, and illegal drugs at work or during work hours and any drugs that can cause impairment and jeopardize workplace safety within the boundaries of state law;
Ensure that testing policies are clear and, where allowed, expressly prohibit:

Use of marijuana and any other substances classified under Schedule 1 of the Federal Controlled Substances Act;
Illegal use of any prescription drug;

Discontinue reference to "illegal drugs" in the drug policy since that phrase may no longer encompass marijuana;
Determine whether any federal or state regulation permits or requires your organization to:

Maintain a drug free workplace;
Remove anyone from work following a positive drug test for marijuana;
Accommodate medical marijuana use;

Notify prospective employees that the pre-employment drug test will include testing for marijuana and that testing positive may disqualify an applicant from employment;
If an applicant or employee notifies you of medical marijuana use, consult with counsel to determine whether a reasonable accommodation is required. (Source: Farella, Braun and Martel, https://www.fbm.com/)
Commonly Asked Questions
Q: What are clients typically doing in terms of removing marijuana from their employment drug tests?
A: Many clients are continuing to test for marijuana except where it is not allowed. In some instances, pre-hire testing for marijuana is prohibited or restricted.
Q: What percent of clients have removed marijuana from their drug testing?
A: At the time of publication, less than 5%.
Q: What does it mean for an employer if a candidate has a medical marijuana card?
A: About 20 states prohibit employers from discriminating against medical marijuana cardholders or from firing employees for testing positive for marijuana due to off-duty use. Consult with counsel to determine applicability to your hiring program.
Q: Will drug testing automatically adjust based on location of the candidate?
A: Sterling can coordinate with clients to ensure changes are made to drug testing panels in jurisdictions where testing for marijuana is prohibited or restricted. Talk with your Sterling representative to configure testing as needed.
Q: Can an employer test for marijuana if an applicant or employee works in a federally regulated position?
A: Under Department of Transportation (DOT) and other federal agencies, safety-sensitive workers such as truck drivers, bus drivers, train operators, and pilots must continue to be tested for marijuana. DOT does not consider state-authorized medical marijuana use to be a valid reason to excuse a positive test result.
Q: What can an employer do if an employee uses marijuana at work or comes to work under the influence of marijuana?
A: In most jurisdictions, employers are free to fire, discipline, or take other adverse action against an employee who uses marijuana at work or shows up to work under the influence of marijuana. However, in some states, employees testing positive due to medical marijuana use cannot be fired. Check with your counsel to ensure compliance.
Q: Why doesn't The Medical Review Officer (MRO) acknowledge medical marijuana cards?
A: The burden of proof to determine that an individual is legitimately a medical marijuana patient rests with the specimen donor or the employer. Unlike with drugs that are legally prescribed by a physician and can be verified by the MRO, states in which medical marijuana use is authorized cannot be consistently or reliably verified.
Q: Does Cannabidiol (CBD) cause a positive marijuana drug test result?
A: CBD is a cannabis compound typically derived from hemp. CBD is commonly used for medical treatments and does not usually cause a "high."  THC is the active compound in marijuana which does cause a "high." CBD and THC are two separate cannabinoids.
Employment drug tests screen for the presence of THC, and as a result, the use of CBD alone should not trigger a positive marijuana result. However, despite CBD labeling that may indicate low THC content, a positive marijuana test is possible. MROs generally reject the use of CBD as an explanation for a positive THC test.
Q: Are marijuana convictions being removed from court records?
A:  Some jurisdictions are sealing, expunging, or retroactively dismissing marijuana convictions that would no longer constitute criminal offenses in jurisdictions that have decriminalized or legalized the use of marijuana.
Q: What legislation was recently approved in New Jersey regarding marijuana?
A:  New Jersey voters approved constitutional amendment that legalizes the recreational use of cannabis for persons age 21 and older, and legalizes the cultivation, processing, and sale of retail marijuana. The constitutional amendment took effect on January 1, 2021 and is dependent on enabling legislation and pending regulation.
Q: Can a New York City employer test a current employee for marijuana due to reasonable suspicion?
A: Employers in New York City are still permitted to administer a post-hire drug test that includes marijuana to current employees, including random, for cause, and post-accident testing. Check with your counsel to ensure compliance.
Within a continually changing landscape, it remains important to remain current on various laws and their impacts. In order to achieve this, Sterling recommends that companies work with legal counsel to regularly review drug screening policies.
Sterling is not a law firm. This publication is for informational purposes only and nothing contained in it should be construed as legal advice. We expressly disclaim any warranty or responsibility for damages arising out this information. We encourage you to consult with legal counsel regarding your specific needs. We do not undertake any duty to update previously posted materials.